Works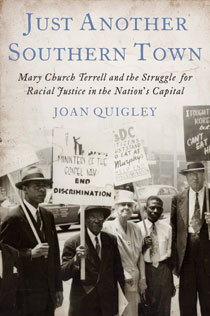 Just Another Southern Town is the story of an octogenarian activist whose battle to desegregate Washington, D.C.'s Jim Crow restaurants paved the way to school integration nationwide.

Advance Praise for Just Another Southern Town:

"Quigley's narrative of Terrell and her court case is especially relevant in the wake of numerous well-publicized killings of black citizens by police officers and the latest wave of black activism."

Kirkus Reviews

"This work places Terrell's long and active life in context by providing an important history of the struggle against segregation in Washington, D.C., and demonstrating that the legal victories of the 1950s were the result of decades of active resistance."

Library Journal

"Joan Quigley's Just Another Southern Town isn't 'just another' biography. In gripping detail, it traces the inspiring story of Mary Church Terrell, whose crusade for civil rights in the nation's capital took her all the way to the Supreme Court in a life that spanned Lincoln's Emancipation Proclamation and the landmark school desegregation case, Brown v. Board of Education. Terrell's case, though less well known to us, was no less important to those who wanted the old laws enforced so they could eat anywhere they pleased. In a book that includes a 'who's who' of the D.C. scene over many decades (remarkably, Terrell lived long enough to know Frederick Douglass and Thurgood Marshall), Quigley reminds us that African Americans of the Jim Crow era did not sit idly by as the rights they won through the Civil War were stripped away. They organized and agitated, setting precedents of groundwork and strategy for the struggles yet to come. Just Another Southern Town is a powerful reminder of the difference anyone, especially an elderly black woman, can make in the life of a people and its laws."

Henry Louis Gates, Jr.
Alphonse Fletcher University Professor, Harvard University

"During most of Mary Church Terrell's ninety-one years, Washington D.C. was indeed just another Southern town where she could not eat in restaurants that catered to whites or sit wherever she chose in movie theaters. A courageous crusader for civil rights, Terrell led a campaign to end such segregation, and finally prevailed in a unanimous Supreme Court ruling of 1953, a year before the landmark Brown decision on school desegregation. This incisive biography of Terrell and her victorious quest for dignity and equality of treatment fills an important place in the history of the civil rights movement."

James M. McPherson, George Henry Davis '86 Professor Emeritus of United States History, Princeton University

"The story of Mary Church Terrell is as inspiring as it is vital in understanding the demise of legal segregation. Joan Quigley has done a remarkable job chronicling Terrell's impassioned fight for equal rights in the years before Brown v. Board of Education, and Just Another Southern Town is an important addition to civil rights literature."

Gilbert King, author of the Pulitzer prize-winning, Devil in the Grove

"The headline 'Eat Anywhere' seems so simple. But without the determination and diligence of people like Mary Church Terrell, it would be only a wistful dream for African-Americans in this country. Joan Quigley illuminates the story of Terrell with exquisite research, rich context and heartfelt care."

Robin Givhan, author of The Battle of Versailles: The Night American Fashion Stumbled into the Spotlight and Made History

"By focusing on an unjustly neglected case and a highly intelligent protagonist who knew all the key actors and left a detailed diary, Quigley makes the early years of the modern civil rights movement come alive. She has a rare gift for making us care about the hopes, frailties, and disappointments of specific individuals by setting them in an illuminating, sure-handed account of large political forces and legal ideas."

Vincent Blasi
Corliss Lamont Professor of Civil Liberties, Columbia Law School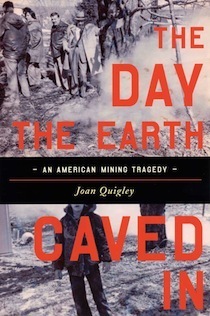 The Day the Earth Caved In is an unprecedented and riveting account of the nation's worst mine fire, beginning on Valentine's Day, 1981, when twelve-year-old Todd Domboski plunged through the earth in his grandmother's backyard in Centralia, Pennsylvania. In astonishing detail, award-winning journalist Joan Quigley, the granddaughter of Centralia miners, ushers readers into the dramatic world of the underground blaze -- from the media circus and back-room deal-making spawned in the wake of Todd's sudden disappearance, to the inner lives of every day Centralians who fought a government that wouldn't listen.

Drawing on interviews with key participants and exclusive new research, Quigley paints unforgettable portraits of Centralia and its residents, from Tom Larkin, the short-order cook and ex-hippie who rallied the activists, to Helen Womer, a bank teller who galvanized the opposition, denying the fire's existence even as toxic fumes invaded her home. Here, too, we see the failures of major political and government figures, from Centralia's congressman, "Dapper" Dan Flood, a former actor who later resigned in the wake of corruption allegations, to James Watt, a former lawyer-lobbyist for the mining industry, who became President Reagan's controversial interior secretary.

Like Jonathan Harr's A Civil Action, The Day the Earth Caved In is a seminal investigation of individual rights, corporate privilege, and governmental indifference to the powerless. Exposing facts in prose that reads like fiction, Quigley shows us what happens to a small community when disaster strikes, and what it means to call someplace home.